Version 4.10.2 of Intellect PSIM released
12/28/2016
AxxonSoft has launched version 4.10.2 of the Intellect Physical Security Information Management platform. The update features new video analytics and improved front-end interfaces that enhance user convenience and monitoring efficiency.
Updates to Face Intellect in version 7.0
Higher usability
Updated operator window combines all of the tools to better capture, search and recognize faces. Just switch between tabs to juggle the monitoring jobs and face DB routines (add, delete and edit pictures).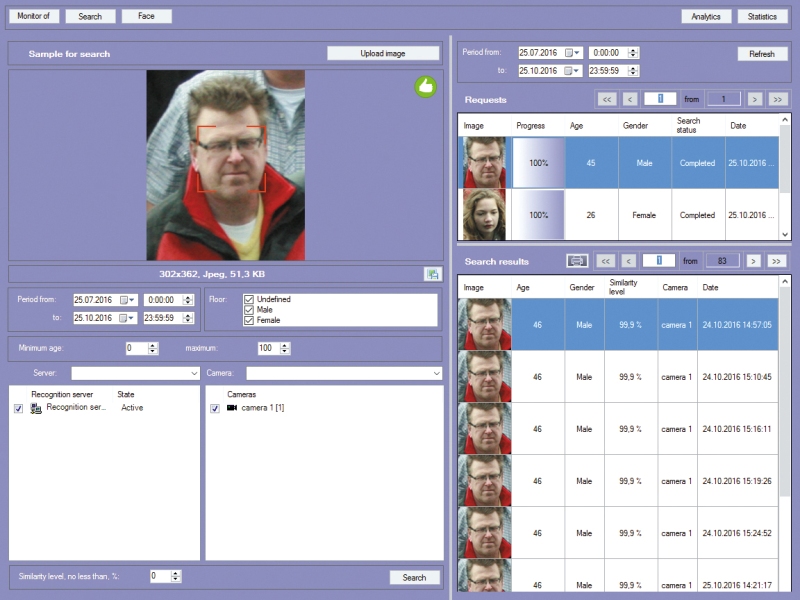 Guesstimate gender and age
Getting the age and gender of your target customers right is essential for market research. It can help you identify the demographics of your store traffic. This feature is available in the Tevian recognition module.
Advanced Biometric People Counter
Counting unique visitors is gaining popularity in retail video monitoring solutions. Advanced Biometric People Counter captures shopper's face at the entrance, identifies unique visitors and ignores repeated passage. In addition, the people counter can be configured to count or ignore store employees.
The report includes the total store traffic, the number of unique visitors and passage events for each of them.

Face Intellect licensing made easy
Tools for face search and recognition, counting unique visitors and demographics will now be licensed per channel. This makes advanced analytics more affordable.
Other improvements in Face Intellect 7.0:
Face search works with the Tevian, Cognitec 8.8 and VisionLabs recognition modules
Facial recognition in the Tevian and VisionLabs modules has been improved
You can now add photos and people to Face Intellect DB by using REST API
FaceRecognitionTool utility helps to export face DB
GIF pictures are now supported
Intellect 4.10.2 is compatible with Face Intellect 7.0 and more recent versions only. Face Intellect 7.0 runs with Intellect 4.10.2 and higher. Support for earlier versions is discontinued in both products.
Event Log window revamped
The Event Log module has a totally new look. You can customize filters to view events of interest. Filter events from certain facilities or sort them by types and time. Apply multiple criteria at one go.
Play with the Event Log look as you like. You can change the font and background color of alarms and events messages, set the duration of the alarm message window flashing. This helps to adapt the interface window to the light conditions. Better monitoring screen ergonomics eliminates eyestrain and operator fatigue.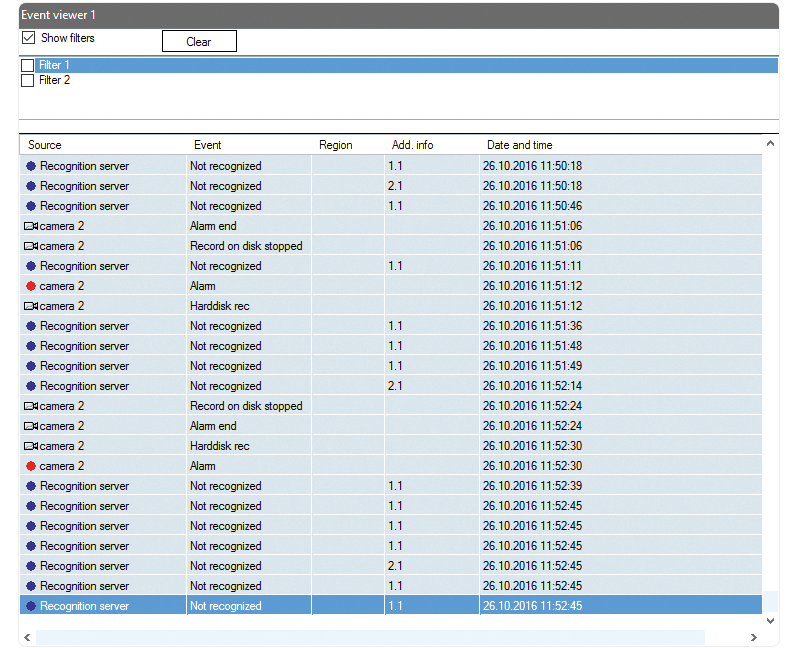 Map cameras to objects
Suppose a smoke sensor triggers or the ACS sends the door forced alarm and you want to get a video from the spot? If you link cameras and security hardware (e.g. a sensor), you can instantly retrieve video footage related to an event in FSA or ACS systems. Camera mapping also works with mics and card readers etc.
Right click any event and jump to video footage from a linked camera.

Fisheye cameras window revamped
Work with panoramic cameras (fisheye) in the standard Video Monitor window. Set up dewarping and get several plain views from a single dome camera on your screen.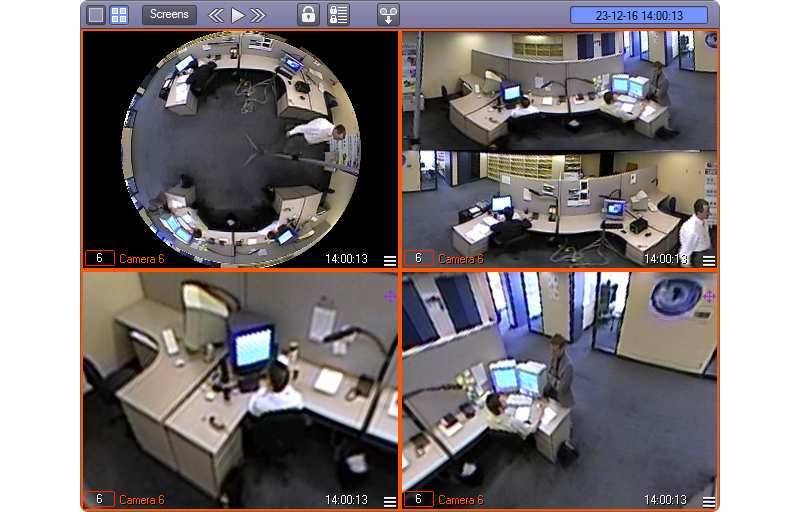 More value added with version 4.10.2
Latest integrations in Drivers Pack 3.43
Fire and smoke detection libraries in video analytics pack
Add zones as polygons and ellipses to a map and choose colors and transparency
Sound available for pre-alarm video recording
Add any number of copies of the camera to the screen
Insert an object with all of its child objects with a hotkey, Ctrl + Shift + V.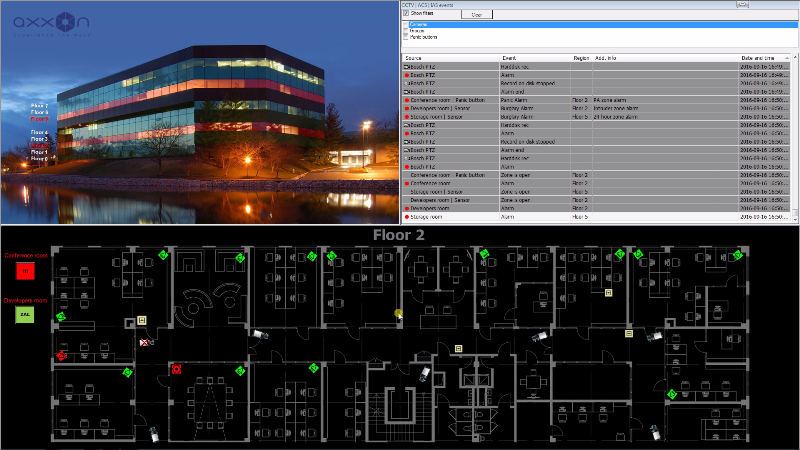 Notes
Windows Server 2008 SP2, Windows XP, Windows Server 2003 and Windows Vista are no longer supported.
Intellect 4.10.2 is not compatible with earlier versions of Intellect. When updating, make sure all computers within the configuration are updated.
Find out more about the new Intellect, download version 4.10.2 and updated modules, release notes and documentation here.